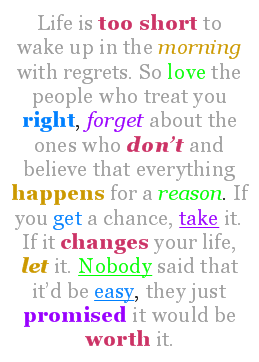 Pelik tpi bena...kan..
enth la..confuse...kenk stgh2 org ya dh dberik pluang
then nya lepskn dakya jk..x ka pelik..(maybe da rezon nya sdirik..kan)
padahal..pluang yg da ya lowm tentu dtg utk kali ke2..
p,kuasa Allah..xda sapa yg tauk..
p,muwn dah rezeki...kta xtauk..
tpi..seriously la muwn aku kat tmpt ya..
aku xkan sskali lepskn pluang yg ada..
no wonder la..nya maybe yakin
yg nya pasti dpt pluang ya utk kali ke2..maybe take time..
p,ya bukn alasan utk nya trus brundur or give up..right...
tpi,xtauk ka nya pnantian ya satu pnyeksaan..
maybe nya dh lmk kumpulkn sgala ksabrn n kkuatn utk mnanti
n terus mnanti ssuatu yg xpasti..urmm..
ku pk mcm2..kdg2 aku yg germ..p,xpala..
depend dgn nya..ya hak msng2..kan..
it's up 2 u..hope ko dpt wak dudi ari lak..keyh my frenz..hee..
okeyhla..tutupla pasl weird2..
skrg aku mowk stroy pasl ktidksabrn aku
utk mnantikn Ombak Rindu the Movie..
germ sa ati aku tga iklan cita ya..ishhh...
best alu upa..cept la masa blalu...hehe..sbr2..
then kinek aku layn sinetron Nada Cinta..kih3..
aku plg xsuka muwn dh mlekt ngn cita indon towk..
ukan pa..best2 mmg best..p,byk ilk konflik..
angol dh aku eyhh..beysala mowk mhangtkn cita..
p,cita indon towk suma jk sama jln cita..
juz laen cket dgn Nada Cinta towk..sbb nya versi Musikal..
best la..hehe..jln cita not bad..hehe...
okeyhla..marek ku tga cita Raya x jdi..
sak ati bla tgh suk2 tga cita ya..tba2 dh part tgh2 xda sora..pelik..
duhl nang xda sora dh ujung2 cita ya..
ku towk men download jk.haha..p,dun worry be epy..
ku dh download baru..kih3...then cita Real Steal..
cam best cita ya..lak la tga.haha..
masa nang byk abiskn ke movie2 n drama2..ish3...csya2..hee
mnganggur teyk nk..haha..lucu2..
okeyhla..ckp pasl mkn aku tba2 tringin mowk mkn something..
adowhhh..p,nadai duit...mowk embk abah spon..
p,mala jk mkn lua..angol org tua ya lak..haha..
seriously aku skrg tgh mngidam mkn Ultimate Cheesy 7 Pizza
perggghhhhh!!! tgk gmbr dh mgiurkn..ya Allah...
sapa2 yg mowk spon aku mkn pizza hut..call or msg aku kinek2..ahha..
kecian alu upa..hehe...dah la da 7 lapisn pizza yg beraneka jenis n rasa..
nyum2..sodappp..(tauk2 jk sedp..maka lowm penh cerik.)
dah2..cukupla aku juz layn gmbr nya jk..
insyaAllah aku g cya lak.hehe..okeyh...
klah..mowk smbg tga cita Raya x jdi..daa...Wsalam..