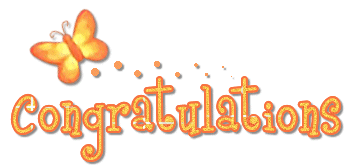 Okeyh..seriously skrg aku epy..p,juz tumpang epy dgn
kejayaan kengkawn aku yg dpt further study ke politeknik
utk diploma integrasi..so,sptutnya result tu kuar esok..
enth la..kdg2 they are cannot be expected..kan
p,rezeki aku la tdi..duk sibuk2 cuba try test bukk
web utk check result poli sesi ambiln disember 2011..
cun2 aku bukk trus dpt chck..
syukran jazilan..tahniah diucapkn...
insting aku kuat mgatakn mereka2 dpt..hee..
Ainah dpt Poli Mukah..p,5 sem(2taun stgh)
uu..lamanya..akak ku dpt jugk..
diploma kjuruteraan awam..2sem jer..
p,x g la..kan dh dpt offer keja kat srwk energy..
itu lh..klu dh rezeki nk dtg..btubi2 dia dtg..
smpi x cukup tgn nk ambik kn..alhamdulillah..
aku puwn sbr jer slma ni..
insyaAllah klu da rezeki..adalah dia nanti..
juz tgu n tgu jer..aku tgh mnanti jugk ni..
ya Allah..mudah2an aku dtrima..aminnn..
okeyhla..ari ini..aku duk umah jer..
buat keja umah, tg tv, mkn then on9..hee
borink2 tdi aku g download cita Raya x Jadi..adowh..
punyala laju line..haha..pa lgi ambil
ksempatn ddlm ksempitan la..huwaaa...
then aku download cita Qaseh & Aiman..
dah tgk..juz best la crita tu..mmg realiti..
benda2 mcm tu mmg tjdi dlm alam realiti bukn fantasi smata2..haha
okeyhla..aku nk chow dulu..nk g lyn cita Raya x jdi..hoho.
pa2 puwn..Congratz to those..sapa2 yg dpt further they stydy..okeyh! :)
gudluck..teruskn pjuangn anda utk mperolehi sgulung diploma..
insyaAllah...aminnnnnn...